Why do we love metal cupboards, wooden pallets and industrial lamps so much? Maybe because in between new technologies and the constant aim for self-optimization we long for something sturdy which is telling a story. The industrial style for industrial furniture, also called Industrial Look is an interior style rooting in the art scene. More and more people enjoy the raw industrial way to furnish homes. Time, to discover the style which connects cosmopolitanism with art and dirt.
Industrial Chic
What makes the Industrial Style special?
Big, open rooms suit best for the Industrial style. You don?t have huge rooms in your house? No problem, the factory look can also be integrated in smaller spaces. You just have to pay attention to some important elements. Raw, used metal is one of the key materials needed for an authentic factory look. Chairs, tables or beds can be made out of metal. Traces of use are desired; visible weld seams, patches of rust or any other kind of corrosion are an absolute must. Not only the furniture itself can be made out of metal: decorating elements can be made out of metal as well. A ceiling light out of metal for example can be a great addition to create a harmonious overall picture.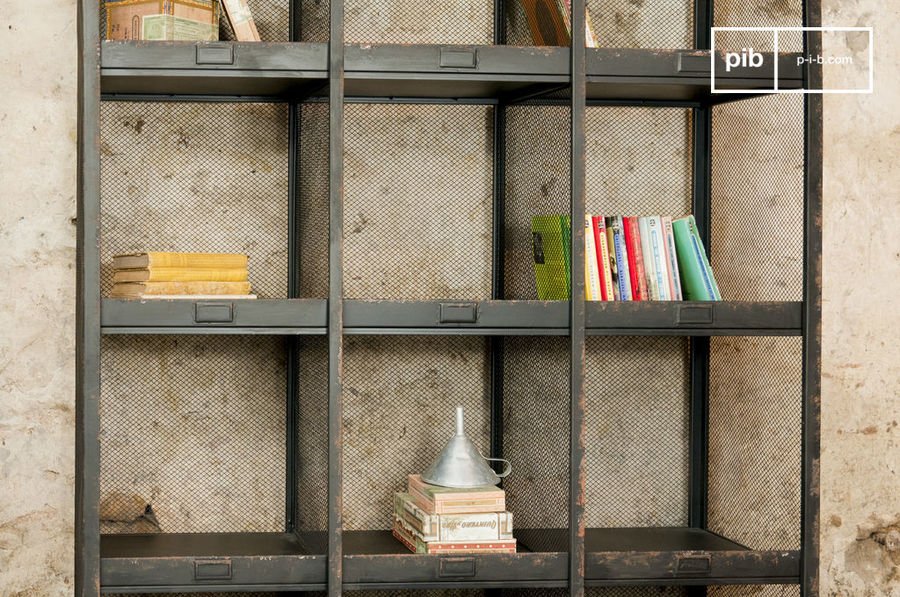 Post office sorting shelves
Hard but warm
Furniture out of metal are iron-hard arguments: not only are they perfect to bring the Industrial chic into your living room. Instead, they furniture made out of metal are also very robust and can be used on the inside, as well as on the outside. A vintage stool placed around a massive dining table, metal shelves reminding of old lockers, metal tables and a kitchen trolley: there are many elements which are perfect to integrate the industrial chic into your own home. Besides metal, cold concrete is another material which is perfect to create an industrial atmosphere. Here, concrete is allowed to be visible on walls and floors. You think this look is going to appear too cold and hard? Try to combining materials like metal, concrete and wood for a powerful result! The different surfaces harmonize very well and the combination makes it very easy for everybody to create an industrial look.
Grey coziness
Grey meets splashes of color
The Industrial style is known for its raw charm. But to make this look a little warmer and more welcoming, let?s not neglect coziness! To add a little modernity to the Industrial look it is best to work with colors. How about retro ceiling lights in a strong red color? It is the combination of bold color and the industrial furniture style that boosts this interior style. When it comes to choosing the right colors, start by choosing grey, beige or brown tones. The right amount of colored splashes, by adding some cushions, by painting a wall or by placing some colored accessories ensure coziness.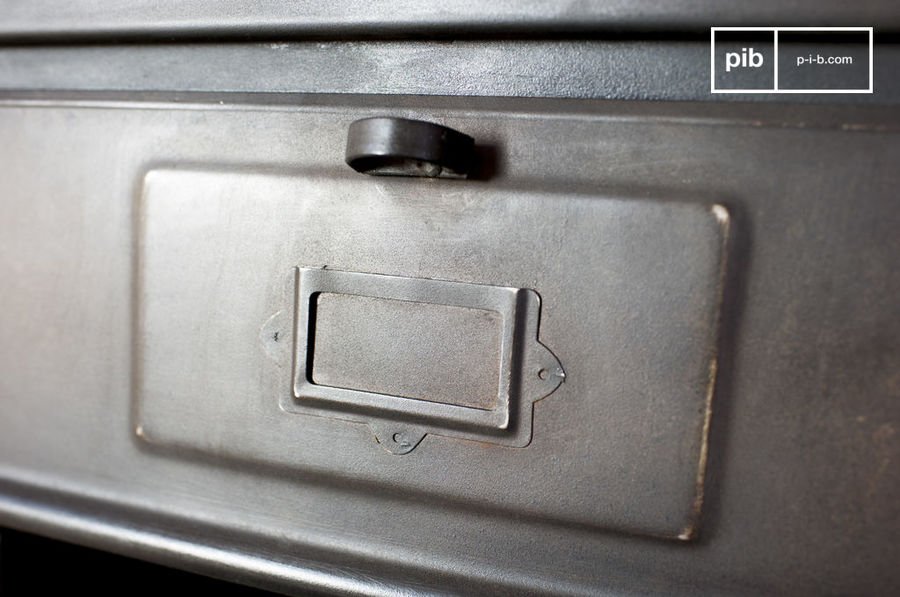 Metal chest of drawers with 5 flaps
Industrial decoration
Keep the following in mind: in general, opt for edgy and angular accessories. Old, rusty metal signs are perfect to add some garish highlights by creating a great factory atmosphere. Maybe you can even get hold of an old train station's retro clock, or at least one which is looking like one. Used glass bottles can be used as vases for flowers, old decorative boxes can easily be re-used as vintage shelves. Other key pieces of the Industrial looks are wooden pallets, which can easily be reconverted into great furniture items: Coffee tables can be easily built by screwing small wheels on the wooden pallets. In no time you can create an Industrial highlight for your living room.
Life in a loft
The Loft furnishing style
A loft is the absolute highlight for any lover of the Industrial style. Often, lofts are remodeled warehouses or fabric buildings. Since the 1940s, where first in New York and London empty fabrics have been remodeled as living spaces lofts have become very popular. Nowadays, lofts are no more improvised living spaces, but one of the most popular way to life in metropoles. But furnishing a bog, open space is actually not very easy! In general, keep the following in mind: a loft has to be airy. The big height and size of lofts can best be handled by furnishing the living spaces three-dimensional. Take advantage of the high ceilings by building very high shelves.
Living like in a loft
You would like to live in an open space, but unfortunately your wallet does not allow you living in a huge loft? Even without old factory walls it is possible to integrate an airy loft atmosphere in your home. With big windows, empty floor and wall spaces and sparsely-furnished rooms you can create in almost any kind of interior a loft-style atmosphere. How can you pretend to have high ceilings even though they are just normal height? Try to furnish your home low furniture, this creates visually higher ceilings. Additionally, with just some small tricks, you can create an optical feeling of width: mount one of our vintage mirrors on the opposite wall of windows or on the left or right hand side of the windows, this makes your room look bigger. Also very important for the loft feeling is only a little decoration with just some large-size elements. Opulent curtains and crammed shelves let your rooms shrink optically and make them look smaller. Instead, accessories should give the impression of having been placed just by accident. Big plants, carefully filled shelves, accessories and wall accessories create the desired coziness and serve as insulation for your loft. Indirect lighting adds additional depth to your rooms.