coffee tables might all serve the same main purpose: to be a support for plates, cups and reading material among other items that are to be kept near our armchairs or sofas. But that doesn't mean that they are all the same! So, in order to make the right choice, here are some things to consider.
Quick history of the Industrial Coffee Table
Origins and evolution of the side table
Did you know that there's no known evidence proving that coffee tables existed before the years around 1870 and 1890? That may sound quite strange, considering that in Britain tea drinking was at the highest of fashions around 1750 and that industrial side table were used to support the cup and a book. But here's a little detail, those were Tea tables! Their structure was taller than our coffee tables: it had a pillar with a round top. Coffee tables have low long structure and it's interesting to see that one of the countries that had a considerably strong influence on English furniture throughout 1870 and 1890, has also a strongly founded tea-drinking tradition: Japan. So believe or not, it might be quite possible to say that the idea of a low long table to support a cup of a delicious hot beverage in England, had some Japanese inspirations. Who would've known right?. Here's another interesting fact: the increased popularity of the retro coffee table in the post-war era can be directly linked to the rise of the television. You see, when T.V sets started gathering the families around them and driving the "eating area" away from the dining room, a low and large table to place the plates and cups was more than necessary in front of the family couch. Practical and stylish, coffee table designs started flourishing and materials started to be mixed, accordingly to our time. For example, glass-topped coffee tables were very trendy in the late 40's and early 50's for objects seemed to be floating in the air and with the rise of plastics around the 60's, plastic coffee tables starting to appear too.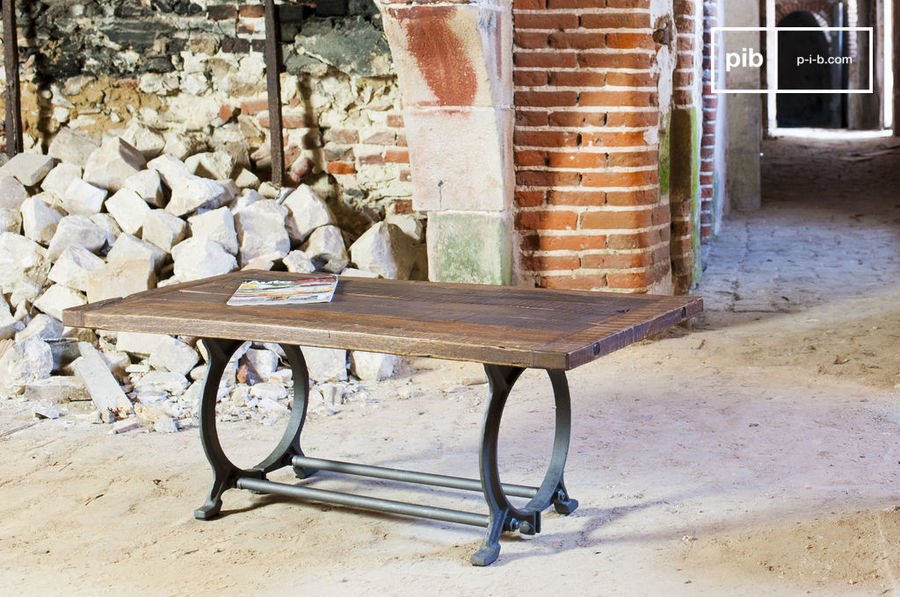 Tonnel coffee table
Looking for the perfect vintage coffee table? Things to consider to make the right choice
Consider the place for design furniture
Think about the material you want for your interior. If you'd rather have a robust and raw entirely wooden shabby chic coffee table, with a beautiful assembly design, the Charpente Coffee Table is definitely the right choice. For a delicate metallic touch, you should check out the Coffee Table with recycled teak, which allies metal and wood in a very modern yet retro way. Keep in mind the place where you want your coffee table to be. Let's say you are looking for one to put next to your retro armchair, well then maybe a smaller, round table such as the Mina Coffee Table is the one for you. If you like rectangular shaped tables, the New Soho Coffee Table and the Bay Teck Coffee Table will give that beautiful geometric touch to your living room> with their black metal rectangular frame. Care for a more wood and metal industrial coffee table? See our beautiful Regular Coffee Table and the Tonnel Coffee Table with slightly rounded corners that will certainly spare you a few bruises when passing by the table in a hurry.
Practical matters to keep in mind
If storage room is what counts the most in your living room, let the Coffee Table with Metal Diamonds and the Aristode Coffee Table provide some extra space with their two wooden trays, or why not? A metallic two tray, light blue table such as the Holly Coffee Table, which will definitely get that 50's look going. What about the space used by the actual table? If you are really looking for a strong table that can be easily stored, the Trémy Coffee Table is definitely your choice. This table not only is quite light (11kg) but it reduces to few centimetres when folded. Speaking of practical matters, don't you love tables that are easily moved? Then we have just the right selection for you! The Ontario Coffee Table is almost entirely made of metal, with the exception of the glass plate on the top, which can be removed for cleaning and an easy transport, if needed. What about combining an easy transport and a unique design? Check out our Railroad Cart Coffee Table and Wood Wagon Coffee Table which have the wheels and the vintage look> of railroad wagon that will doubtlessly transport you to another time. If you are looking for a unique table that will not leave any of your guests indifferent, then our Calaba Cofee Table and Tubisteel Metallic Coffee Table are the ones for you! Let yourself be seduced by the round shape and the metallic structure of these stylish tables and let the Industrial style flow through your interior!